Happy Birthday America!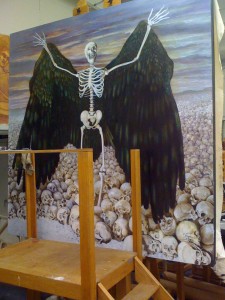 My exile from the studio while the wall was built is over. Although the floor is filthy, theres no door, and the lights aren't working quite properly, it's functional enough to get back to painting, so I've been working with Ceramic white to drop the higher skulls back toward the distance – there's a nice mistiness that's produced when I wipe most of the paint off with a rag that works very well. The Ceramic white is great as a substitute for Zinc in this kind of application, but I also like it for it's almost blue-ish brightness when it's used more densely, as I did to brighten up the bones of the skeleton and to fix some of the skulls that I'm not entirely happy with. I'll repaint the skulls under the Angel with a little Van Dyke brown and emphasize the shadows in the foreground so that the closest skulls pop forward a bit more. Finally, I've used the white beneath the skulls where you can see the first layer of what will eventually become a spread of pebbles with weeds forcing their way through. I think I'll take advantage of an old studio painters trick, putting some bright red flowers in front of the white skulls so they really jump. It might be too much, but I think it would be fun to try it. Poppies? They're the classic symbol of sleep and forgetfulness.
It's strange to be in the studio in its new form, but I can see that it's going to be really terrific to work in when things get organized and arranged properly.
Oh, a correction to the last entry about sketching the next paintings – I meant to say the Empress when I said I was drawing the Priestess. Sorry for the mix-up. I've taken the liberty of altering the previous post.