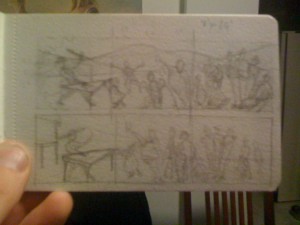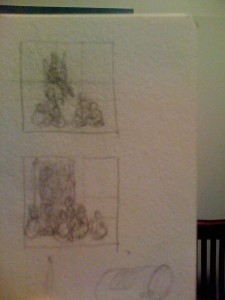 I've made the first thumbnail sketches for the next couple of paintings. On the left the doodles for the epic thirty footer, on the right I'm feeling out the shapes for the Empress (Angel of Birth). The drawings in my little sketch book are very small, so I'm afraid that you can't see much detail at this stage. I like those pocket sized Moleskine notebooks when I'm doing this kind of work, the watercolour paper ones are particularly good for what I do at this stage – their small format prevents my tendency to try to put too much detail into what I know will become a large image, forcing me to pay attention to laying out composition.
In the sketch on the left perhaps you can decipher the Magician on the far left, working at a triangular table with a child looking on. Â At centre a plump man toasts him, while a group of three slender spectators observe, clustered toward the right hand of the canvas.
The Empress is seated on her thrones with children at her feet. This is the painting that I'm thinking of for the highly decorated patterned surfaces, rich and golden. Lots of children, lots of flowers.
I've begun to develop a larger draft of the large painting in a corner of the studio, which is still a big mess from the construction of the wall this week. On Sunday I'll be able to get in there and straighten things out a bit, with a bit of luck maybe I'll even be able to do some work on the Angel of Death.