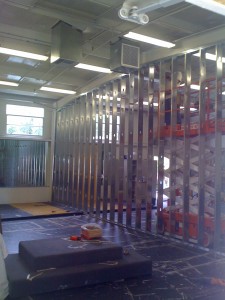 Wow! After a day of clearing the studio out, yesterday the contractor got busy and threw up the framing for the wall in a day, even sheet-rocking one side all the way to the roof. Today they returned and added some plywood then sheet-rock to the other side; by this evening the majority of the work will be done. Tomorrow they'll plaster the seams, ready to paint it on Saturday. We should be back in business in time for Monday morning. This wall is going to provide so much surface space to work on!
I'm unable to get any painting done while they do the building work, so I've started playing with ideas for a huge painting that will go onto the new wall. There's thirty feet of space to play with, so it has the potential to be really enormous. I've laid out a couple of scaled rectangles on paper and made some sketches that are working pretty well but need further development. Later I'll scan the more successful doodling to show how an idea for a painting develops from the earliest stages. Look for figures of a Magician, three Lovers and a King.
I'm also working on drawing the Empress as the Angel of Birth, with lots of floral decoration to do later. Right now I'm at thumbnail sketch stage with her, so look for the development of that picture too.