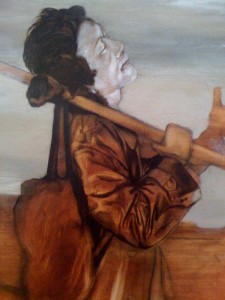 A fantastic surprise arrived in the studio today – a sideway monitor that I can plug my computer into for showing reference pictures – now I can see images vertically instead of horizontally. This matters because it allows me to have images of face and hands at the same scale as they appear in the paintings, with the ability to see what's around them too.
I managed to make good use of the new screen in the hour or two left over after finishing cutting 3/4″ plywood and getting started building for the show in Santa Barbara, laying down a nice chocolate brown (my customary old favorite, Van Dyke Brown) to define the shapes of the leather jacket, seen here in the photo, with all those interesting creases and folds. This took a long time to get right, because the dark areas are quite complex, and I had to really pay attention to what I was doing.
I moved some of my paintings over to my house today, because the walls are bare, having put the birds, Justice and Temperence into the shows that are on presently. I'll take Amelia over this afternoon too.
I'm looking forward to tomorrow, with a little painting time available in the studio, which is now all set up for the new semester that begins next week. I like the activity in here when the students are around, it's lovely to see their work develop.