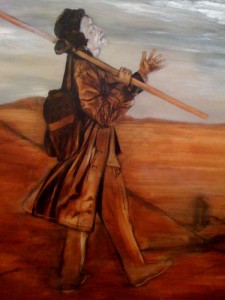 The vertical monitor is incredibly helpful! I'm  so happy to have it to use as a tool.
The boxes are nearly complete for the Beckett plays, so we're well on the way to getting the pieces up and running for the actors and directors to work with actual set furnishings, and I'll get lighting designed and hung this weekend. I managed to hurt myself pretty effectively using the table saw, when a piece of wood kicked back and hit me, but everything is okay, just a scrape and some embarrassment at being stupid enough to injure myself in the woodshop again. (Second time I've hurt myself properly in twenty years, not counting banged thumbs and splinters).
In the studio I was able to work on the Traveler for a few hours, getting lots of the ground work done and defining the shape of the figure against the background. I need to patch up a few pieces of sky that should be within areas framed by arms and hands, but that should be pretty easy. I trimmed the tail of the coat because I wasn't enjoying the way it was angled, being a bit too extreme. Now there's a curve in it it feels more real, as if it's rising and falling with his movement.