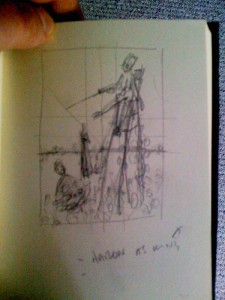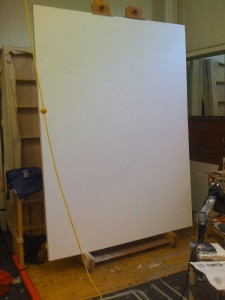 The two paintings, the Star and the Queen of Cups, are both framed and delivered to the gallery with the other paintings in the New Romantic Figure exhibit. Alexey Steele's piece is also framed in a tabernacle, and the three look quite dramatic together. We'll hang the paintings tomorrow morning. We had a great evening last night when several of the artists in the show delivered their paintings then gathered together for some food and a drop of wine. We've all been interviewed for a promotional video, which I think will offer an interesting snapshot into the minds of this exceptional group of painters.
I had a moment of panic when I realized that my easel had nothing on it, so I started work on sketching for an image that's been stirring in my mind for a long time – the figure of a king sitting on a very tall chair in a desert while vines climb up its legs. At the foot of the chair sits a person who seems unperturbed by the direction of the ruler above. In the sketch an unexpected third figure emerged in the background, tall and dark, reminding me of Nick Cave's stranger with a red right hand. I love morning glory vines, and I think this is a great opportunity to paint lots of these beautiful flowers in a large landscape setting.
I shot reference photos of my student Aaron sitting on a ladder. I'm looking forward to getting started, which might be tricky this week with my commitments to the exhibit. The canvas is already prepared, stretched over a wood panel and thoroughly gessoed. I hope to get the preliminary drawing done over the next few days.