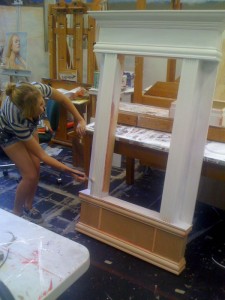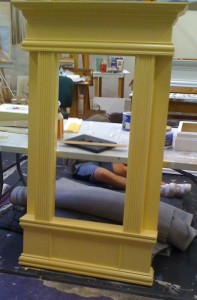 What a treat it was to see the paintings in these frames for the first time! Although they were still only painted with primer this morning I could see that they will lift the paintings into an altogether different plane. I'm really grateful to Stacey, Aaron and Joe for their help. These are fabulous!
On the right there's a shot of the Star frame in it's yellow state. Using Photoshop I tested a variety of colours for both the Star and the Queen of Cups (which I keep calling the Lady in Red because of that lovely old Chris de Burgh song).
Although I've been very busy with the last couple of days of my classes (I teach Drawing and Painting classes during the summer) I did find some time to get some more work done on the stained glass window, which needs one more layer to complete the coloured light that's cast upon the boxing. I used Ceramic White as a glaze over the panes, lifting it off with my finger to blur it. I still need to paint the coloured light that's passed through the glass onto the boxing of the glass.
The Green Man painting got framed today, in a deep box with a receding molding. I like this unusual shape very much and plan to do similar framing for more work in the future. It's really simple, using base molding with a decorative trim inside the leading edge. I like it in white, which gives a nice contrast to a pretty dark painting. This one won't be in the exhibit, I'll have to save it for the shows next year.