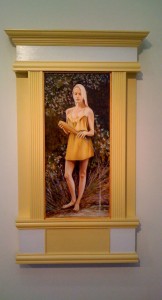 I'm very pleased to publish these two pictures of The Queen of Cups and the Star as they appear in the New Romantic Figure exhibit. I love the tabernacle frames. We've matched the colour of the decorative trim around the Star to the Iron Oxide of the base coat so it picks up the colour of the painting nicely. The Reds of the Queen's dress are set off so nicely against the white of her frame that I was reluctant to decorate it, so presently it's a simple white, very classical, very clean.
I'm so happy to get this show rolling, it's been close to my heart for a couple of years. It looks lovely now that it's got good lighting. The twelve page full colour brochures arrived this evening, ready for the reception tomorrow night, and I have about eighty posters to give away too. Ask me for one if you can make it to the event.
The Kwan Fong Gallery is at California Lutheran University, Thousand Oaks, California, 91360
The Opening Reception is at 7pm on Saturday 20th August, 2011.