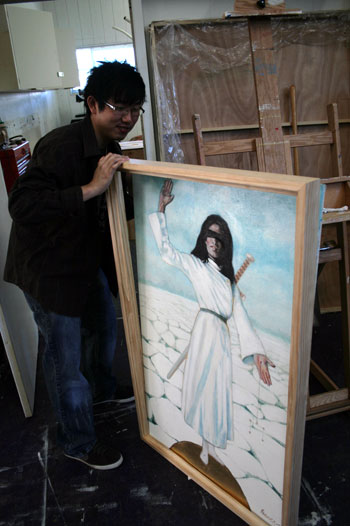 Many thanks to Lukas and Nate, who helped me to clean up the tree, repainting the tubes where they had been scraped during shipping and sanding and gluing the boxes that will accompany it when it's installed. Lukas brought the coupling joints we will need to put the tree together, so we prepared for installation by attaching the joints to the branches in the correct places so that as much as possible the erection of the piece becomes a fairly simple matter of sliding the branches into their appropriate joint, then tightening a couple of screws. 
I managed to find enough time to get most of the lining done on the Geomantic man, which means that I'm getting ahead of the game.  I'm cutting a diagonal line across the lower corners of the paintings and plan on building the foreground later today.
The skeleton got the beginnings of the alchemical king and queen, but not in the form I had initially expected to use – as decapitated heads – instead I added a small amount of gold leaf to the top left and right of the painting that will become the crowns of the alchemical King and Queen. The leaf is a touch too bright at present, but a little glaze over it will resolve that.
Jason helped to make frames for the tarot paintings – looking great so far. Now we need to paint them black and polish them to finish.
I have to take the As the Crow Flies installation over to the Hillcrest Center today for the show there. It's going into a long hallway, filling one section of the length. It's opposed by a wall of glass, so it should look pretty good from outside and in. I spent an hour this morning adding more gold to the large panel where it had suffered a few nicks and dings. Crazy busy these days!