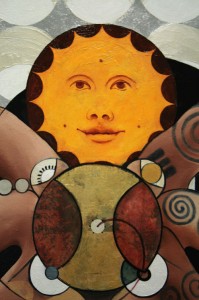 At last the Geomantic Man has a face that I'm happy with, much more cheerful and appropriately solar. Later today I'll line the edges that still need cleaning up after the silver leaf work I did last time I worked on the piece, then get into the foreground of the painting. Right now I'm enjoying this benevolent sun being.
The painting reminds me of Yeats' "silver apples of the moon, the golden apples of the sun" in The Song of Wandering Aengus, one of my favourite pieces of his work, closely following this piece:
Aedh wishes for the cloths of heaven
H

AD

 I the heavens' embroidered cloths,
Enwrought with golden and silver light,
The blue and the dim and the dark cloths
Of night and light and the half light,
I would spread the cloths under your feet:
But I, being poor, have only my dreams;
I have spread my dreams under your feet;
Tread softly because you tread on my dreams.