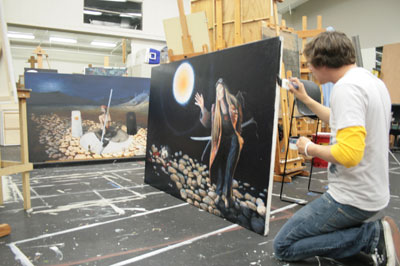 It's late now, and it's the first chance I've had to sit and write today. The As the Crow Flies piece is installed over at the Hillcrest Centre, looking great in its own area. Each time I look at the piece I think I should paint every single piece of it with a glaze of crimson, wiping most of it off with a rag to contrast those lovely reds against the gold. Food for thought.
(To get to the Hillcrest Center in Thousand Oaks, California exit the 101 Freeway at Lynn Road and turn towards the Oaks Mall (North). Turn right onto Hillcrest Drive. Turn left onto McCloud Avenue and immediately right into the Hillcrest Center for the Arts driveway. The driveway will take you up a steep hill. At the top of the hill turn left into the parking lot. The first building on your left will be the National Parks Service; the Hillcrest Center for the Arts will be the second building in the parking lot.)
On to this evening at the studio where Nate and I have been preparing paintings for their visit to Glendale, where the exhibit will open next Saturday evening at six. We've been finishing up frames and painting the edges of the canvases black to clean them up. Tomorrow we load in the biggest material to the gallery, ready to install on Wednesday and Thursday, so we'll be moving a lot of gravel, the tree and accompanying boxes, the cabinet pieces and all the bottles. I'm suspicious that this will take two trips, because the truck I hoped to have wasn't available, so we're doing it all in a full-size pickup, not a stake-bed.