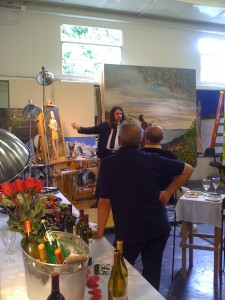 I had the pleasure of hosting a studio talk at my space at CLU yesterday afternoon, including a brief demonstration of glaze painting, using a Sap Green over the background of the Star to show the luminosity and  flexibility of oil painting. Between twenty and thirty people attended, and we had a very pleasant afternoon together. I spoke about the allegorical meaning of the four big paintings, alchemical symbolism, renaissance emblems, traditional painting techniques and teaching.
I was moved by an email I received this afternoon from Margaret Fieweger who told me that she was reminded of two poems as I spoke about the big paintings around the studio. First, accompanying the Magician, Fire and Ice - a piece by Robert Frost written in 1923
Some say the world will end in fire,

Some say in ice.

From what I've tasted of desire

I hold with those who favor fire.

But if it had to perish twice,

I think I know enough of hate

To say that for destruction ice

Is also great

And would suffice.
The second piece she chose to accompany the Traveler was Pied Beauty written by Gerard Manley Hopkins in 1877.
Glory be to God for dappled things–

For skies of couple-colour as a brinded cow;

For rose-moles all in stipple upon trout that swim;

Fresh-firecoal chestnut-falls; finches' wings;

Landscape plotted and pieced–fold, fallow, and plough;

And all trades, their gear and tackle and trim.

All things counter, original, spare, strange;

Whatever is fickle, freckled (who knows how?)

With swift, slow; sweet, sour; adazzle, dim;

He fathers-forth whose beauty is past change: Praise Him.