I'm working on getting these hands right, and moving over to the lad on the right side of the painting. It's been surprisingly humid here this past few days, so the paint is taking a long time to dry, narrowing the areas of opportunity to improve the piece. I may have to move back to the skeleton while this one settles down.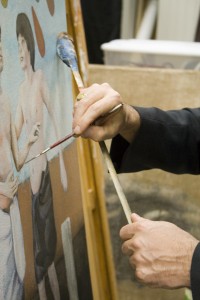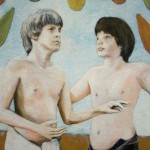 When areas of a painting are wet and inaccessible there is a particularly handy trick to allow a painter to get over them and continue working: a simple maul stick, which is held in the left hand and rested against a side of the canvas so that the right hand can lean against its shaft without touching the surface of the painting. You can buy them in the store, or save your money and get a short dowel rod for next to nothing, then tape a rag over the end of it. I've had mine for at least fifteen years, made from a piece of half round dowel that was lying around the wood-shop and half an old sock, wrapped up in that blue paper masking tape. It cost nothing to make – a pretty good investment in such a useful tool. I like to paint on canvas that's been stretched over a wood panel, so I get to put the end of the stick anywhere that doesn't have any wet paint on it, but on the bigger canvases you have to lean against the stretcher bar edges, or risk pushing the canvas, causing dents.
Even with the help of the maul stick I was unable to proceed any further with the boys, so I moved down to the blackened ground, where I needed to define some features of the broken and lumpy earth.