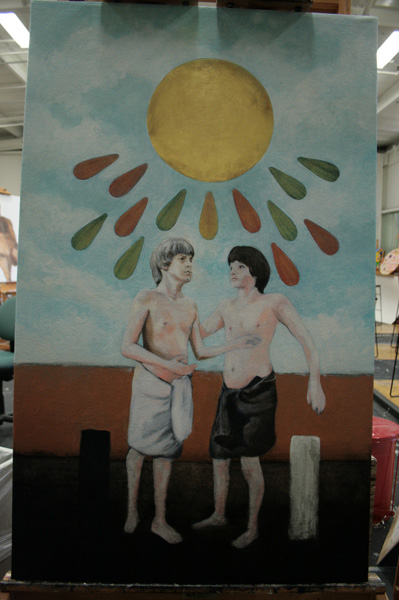 I thought I would add a little to the previous post by commenting that the hair on the boy on the left is grey now so that it can become blonde later – in the next layer I'll put some semi-transparent raw sienna over what you see here to produce a pretty convincing mop of hair. I want to make one boy blonde and the other dark, emphasizing the two differing aspects of salt and sulphur generated from the nigredo. Although the two are generated from the same material, they are subtly opposed, hence the dark and light of their towels, blonde and dark hair, black and white pillars (Boaz and Jachin).
He needs a little more work on his features, which are not yet perfect, but restraint is important. With the recently completed painting of Temperance leaning against the wall behind me to remind me of the virtue of moderation I'd be foolish to indulge my desire for completing the image when attempting to work over what I've achieved here probably would cause more injury to his face than if I wait until the surface is dry and invulnerable. By waiting a time with patience for the paint to dry I gain the freedom to mess up later as much as I like and still be able to correct errors without losing this worthwhile work.
Lots of work to do – hands everywhere!