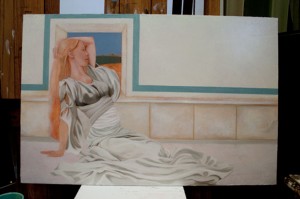 Now there's colour in the window the composition is starting to make sense, with the figure framed within the blue sky. I like the depth that's beginning to emerge, but of course the sky and sea will need glazing to get any sense of solidity.
I've used the Iron Oxide to stain the marble wainscot and to colour the window boxing, and will glaze it again with a transparent white to drop the colour back a bit. Almost all of the original orange sealer is covered with a first layer of paint, although the warmth of the Iron Oxide comes through the paint, lending the composition a nice glow, even though there's going to be quite a lot of blue in this piece.
The drapery is taking shape, with the fabric of the dress spreading on the ground around the figure's knees. I'm much happier with this loose fabric than the earlier tight version. It reminds me a little of John William Godward's work. Although Godward wasn't a Pre-Raphaelite he was Alma-Tadema's protege, sharing many of the romantic sensibilities of Victorian aesthetes. Living into the nineteen-twenties he killed himself in disgust with his falling from favour following the advent of modernism, particularly Picasso, whose work he loathed.