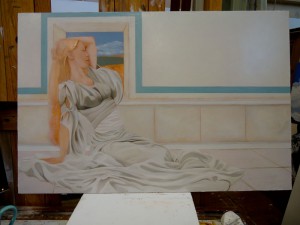 Because I didn't like the balance of the composition as it stood I've added more fabric to the left side of the dress, making it extend under the Queen's hand and off the edge of the panel, creating a more fluid feeling to the bottom of the painting. I'm enjoying working out the folds of the drapery, and will spend a little time continuing to alter and shape the folds to iron out any irregularities that don't make sense or feel unnatural.
I've worked on the walls a little, adding more detail to the wainscot moldings and glazing the stone with some Ceramic White to soften and brighten the finish, then lining out the cracks with a bright white on the right side of each line to create a reflection from the light as it comes into the painting from stage right. Although using a Raw Umber for the purpose I also lined the slabs that make the paved floor.
Thanks to Godward's painting Mischief and Repose (which can be found at the Getty Centre in Los Angeles) I've been thinking of animal skins and wondering where I can get some for a painting. Although I admire some of Godward's technique I don't particularly like his subjects, which are almost universally straightforward observations of beautiful women in neo-classical settings. And there's nothing wrong with that, but that's all there is! His mentor Alma-Tadema nearly always had subjects of greater depth and drama, with greater spatial depth and more interesting settings than his protege.