I've been thoroughly enjoying myself in the studio, helping Rich cut panels in the new woodshop, setting up the skeleton for the Angel of Death painting and making the landscape for the Fortitude piece.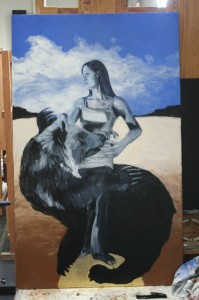 First the woodshop, which is completely wonderful. Rich has a week to go and paint seascapes on the California coast, so he needed to rip a sheet of plywood down to panels, ready to gesso and carry to the beach. (Painting seascapes isn't a bad way of life, if you think about it.) I don't want to get repetitive, but getting the shop going right next to the studio is so good, I can't wait to get my students in there making panels and stretcher bars.
We got to spend an hour or two chatting and eating a meal together, and he helped with arranging the skeleton for the Angel project. This was really fun to do, in a gruesome way. The skeleton looks like a rock star again, with his jaw propped open into a big grin, arms raised as if he's welcoming applause – but this guy is stepping on skulls in a pile at his feet.
Finally, I've added a desert landscape into the background of Fortitude, following the pattern of the other two virtue cards Justice and Temperance I've slightly curved the horizon to give a slightly fish-eyed appearance to the painting, bringing the girl and the bear into the centre of an implied circle in the landscape. I added a bit of width to the shoulder of the bear, feeling that he was a little too square and flat against the edge of the panel.
This evening I'm off to the ballet to see my daughter dance – perfect!