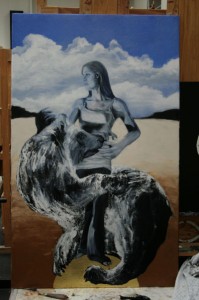 By painting a glaze of very light grey over the sky and taking most of it off with a rag I've brought solidity to the bottom of the clouds, then put on some pure titanium white on the top edges, picking up the highlighted bright sunlit cotton wool of the cumulus masses.
That's one of those big Californian June skies we've been having this month. I love this place.
The bear needed much more substance, so using my palette knife I scraped white over the first layer to build depth and dimension. Soon I'll put a lot more detail into the pelt.
There was a large group of cheerleading trainers here for a weekend retreat to learn how to pass on their extraordinary gymnastics to high school kids. I've never seen such amazing flips and spins as I did today from these young men and women. I hope to shoot pictures of one of them tomorrow for the scorpion painting – funny how these things fall into place so perfectly – synchronicity is wonderful.