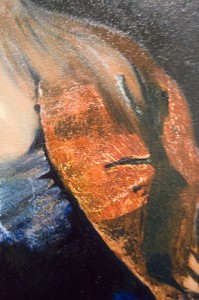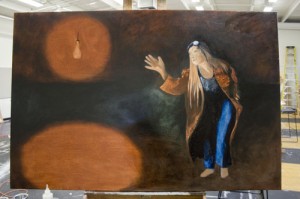 With the white paint dry enough to work on at last I was able to bring some colour into the figure. I really enjoyed using a combination of the knife, the brush and a rag to apply the paint and get these lovely textures for the surface of the leather coat. Detail shot upper left. The circles on the left are distracting right now, and are really guidelines for where the light will fall later. 
I love the way the soft rag work becomes textured by scraping the surface with a knife, removing the brown from the white beneath it. Almost edible.
I added a layer of Prussian blue into the middle of the figure. I chose this blue because it has the wonderful quality of ranging from black to a rich, almost ultramarine blue, perfect for blue material emerging from shadow. Right now, of course, the background appears to be too light because of the more detailed work on the figure, so I'll balance that up later, when I've put more information on the surface of the ground. I really liked the dried out lake bed stones I put into the Bombers piece, and I'm very tempted to do a similar treatment here.
I also need to get to fixing up the face and hands soon, but this will have to wait until this coat and body work is dry.