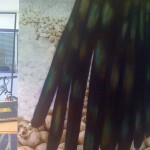 I'm on the home stretch of the skulls now, with only the top of the left side to do, and they're going pretty smoothly. I got into the studio early today so I could watch the world cup game between England and Slovenia, only to be tortured by terrible streaming that kept breaking up the commentary and freezing the picture. Evil. So I'm making use of the time to do an hour of painting before I meet with Ryan, our VP of Facilities, to discuss the division of the studio into two and the creation of some new spaces that we haven't been able to use in the past.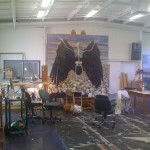 Although I'll be sad to see the wide open space here get smaller the art department will now have an individual studio for each faculty member, which has been a goal for a couple of years. I'm pretty excited about that.
Later today I'm meeting Bela Bacsi, a terrific sculptor from Santa Barbara. I'm looking forward to talking to him over lunch about the state of contemporary sculpture very much. I'll be showing him around the studios at the University then heading over to the local Indian restaurant.
The studio is all set up for the summer, with my big easel at the end of the space, giving me plenty of room to move around in. I'm very happy with the reception that the Angel has been getting; everyone seems to be impressed by it.