I made it all the way across the painting above the first foreground grouping of skulls, but have yet to fill in the space to the lower left of them. That flu I had last week seems to have come back again today, and I'm feeling weak at the knees again, so I'm going to have to be careful not to get to tired. I like the way this layer makes the painting appear. The angel is very much in its element here, and I think that it will be particularly potent when it has some legs to stand on. With the background skulls sketched in I'll be able to draft those bones in fairly soon.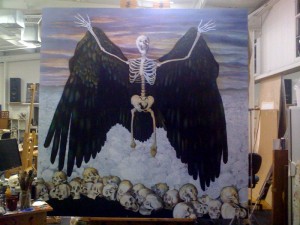 I found that the best way to keep the scale of the skulls consistent as they come closer to us in the foreground was to sketch a few ovals that were roughly the correct size progressing down the canvas, enabling me to gradually increase the size as they appear to be closer to the front of the picture.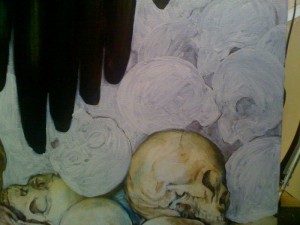 I'm using a skull from the skeleton that I originally used as the model for these. I plan to simply set up a light then rotate the skull, and make up the shadows as I build up the layers of the painting.