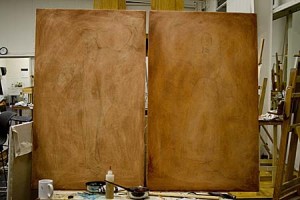 I sealed the two canvases with some burnt sienna and medium over the drawings, wiping much of the paint of with a rag.
The drawings drop back into the rich oxide and become harder to see, but the marks are clear enough for painting the next layer, the en grisaille, which will be the foundation of the painting. I like to keep this layer pretty loose to start off  with, then control and fix things. It makes the painting feel as though it grew off the canvas. Temperance will need a bit of carefully observed work on her face and hands in order to really pull off the painting effectively. I think it's going to be very satisfying making these pieces. Clearly the background isn't there yet and I'll start building that, referring to my sketchbook.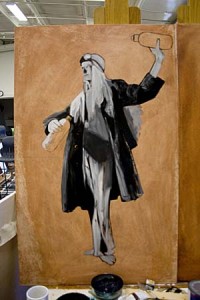 It's clear that getting the Fortitude painting moving is important if I'm going the get the three main images done together. I'll have to get my model organized and sketch the image out. This all feels good.