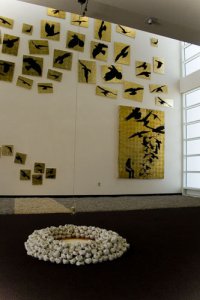 This Thursday evening at 7.00 pm (TOMORROW!) is the closing of the Principle exhibit. Please come to the Kwan Fong Gallery at CLU and join me for drinks and snacks.
I've been completely delighted by the way the show has been received – it seems that each time I'm in the gallery someone has something lovely to say about it. It's so inspiring to hear such positive feedback. Thank You.
I'm selling individual crows, so if you're interested in purchasing one, or starting your own flock contact me at pearce (at) clunet (dot) edu and I'll be happy to get them to you. Prices are very reasonable – $100 for a small one, $200 for a medium, $300 for a large.
I'll sell them off the wall during the evening.
Just in case you're wondering what to expect, here's that nice article about the installation in the Time out section of the Star newspaper.