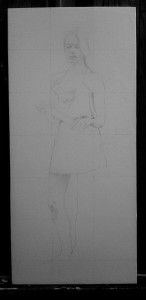 I've sanded down the canvased panel after allowing the second thick coat of gesso to dry thoroughly, creating a very smooth surface that's about ready to paint.
Drawing the image has been a thorough pleasure, and I think I'd like to spend a lot more time doing paintings like this – where the images are quite simple and involve small moments of beauty. Later I'll alter the tube she's holding to become a water vase with the last stream of liquid cascading from it. I haven't started on the floral work I imagine that she is surrounded by.
I've finished the portrait of my Uncle and Aunt, which I'll ship to my cousin Juli in a few days. I hope they love it!