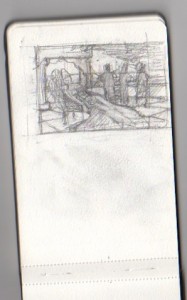 After a tiring weekend dealing with excessive rain that caused all sorts of trouble including a leaking roof close to the new paintings, everything is now back to normal and we were able to continue as planned, so Brian Stethem came in this morning for a delightfully problem free photo shoot. I'll post the results as soon as he sends me the files. Taking photos of paintings can be tricky because they often reflect light, causing strange things to happen to the images, so we moved the big easel to the centre of the studio, away from the windows. Although the rain was a pain this weekend, today the cloud cover gave us a lovely evenly diffused light.
All four of the paintings are ready to be removed from the panels and put onto stretcher bars, making them much easier to move around, and facilitating easier shipping.
I'm getting ready to start on the Priestess and the Hanged Man. The former might well turn out to be the first interior of the series. In this piece the Priestess is sleeping beside a doorway, with four musicians close by playing beautiful music. I really enjoyed painting that marble courtyard for the Empress, I think I'll explore stone surfaces a little more in this painting.
The Hanged Man is going to take a little more preparation because I'm going to have to rig some pipe so that my model can be safely suspended upside down by one foot.