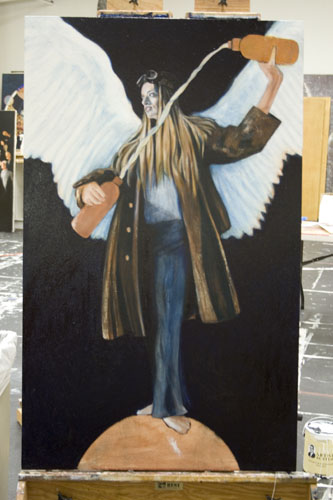 I didn't get much time in the studio today, being involved in preparation for the new semester, shows coming into the gallery and whatnot, but did get to work on Temperance when I got a spare hour this evening. I committed to not having the two figures in the lower half of the piece, and rejected the formulaic halving of the vertical plane by painting a fairly dense layer of that lovely Prussian Blue over it. I just love the capability that this pigment has of being so dark that it's almost black, then dropping off with a little thinning out with a rag, or fingertip into a lovely rich blue on the edges of things, letting them fade into the darkness. Scrumptious! Anyway, I like this new look a lot more, and it's coming close to completion now. It's been a long saga making this piece, it seems.
I'm seriously considering gilding the sphere she's standing on, even though this would be a total pain in the bum, having already painted so much of the surface. I'll need to gesso the area, sand it without getting dust on the already painted surfaces, then gild to an edge that's already painted.
You'll notice the similarity between this piece and Amelia Beheads the Alchemical King. It's the same model in both pieces: Caitlyn Carradine, the beautiful dancer and choreographer, grand-daughter of the famous actor John Carradine. She's Amelia Earheart in this one as well, who better than a dancer to become an aviator angel?