I'm still working on these skulls, but now I'm past the half way point and can see light at the end of the tunnel. It makes for tedious blogging though – what can I say? " Still painting skulls…" for a month?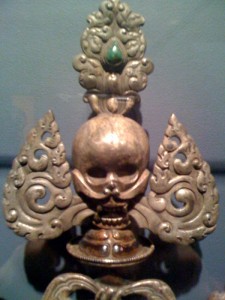 I went over to the Norton Simon museum on Sunday afternoon and thoroughly enjoyed visiting some of my favorite paintings there. While in the lobby I admired a particularly fine drawing of Mr Norton Simon by Don Bachardy, who was Christopher Isherwood's partner, famously drawing a series of images of him during his last illness. I've admired his drawings for a long time, and think of him as a contemporary Ingres. I had been invited to a party at David Hockney's house that afternoon by my old friend John, who's been David's partner for a decade or two, so after enjoying the collection I took off to get to the Hollywood Hills and I found myself beside the front door chatting with John, enjoying a nice drop of champagne when a group of friends arrived and introduced themselves. I thought I was hearing things when I heard one of the newcomers say "Hi, I'm Don Bachardy"! It was very strange to meet this lovely gentleman after gazing at his work in the best museum in LA only an hour earlier. I really enjoyed meeting him.
Enough shameless name dropping! Back to skulls!
At the Norton Simon there was a small but enjoyable exhibit of demons from Tibet and India, including this little fellow, who reminds me of the logo for the Hells Angels, with the wings coming out of the side of a skull's head.