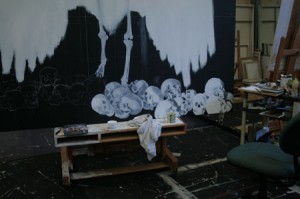 Moving into the house is keeping me busy, as I find endless distractions and needs that must be attended to. I'm pretty happy with the kitchen now, which really matters as the heart of the house, and I've been enjoying having friends over to see the place.
But now it's time to get back into the studio and get serious about these skulls and the skeleton, not to mention that I'll shoot more photos of Sarah for another card tomorrow. This time she and one of my new students, Tucker, are going to pose together for The Lover.
I've roughed in several more skulls, slowly knocking out the complex structures that the skeleton will stand on. Half way there! It's really not difficult work at this stage, being such a simplified version of the bones.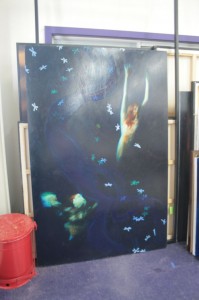 I've been looking through the piles of paintings that lean against the studio wall, finding two pieces that I'm really not satisfied with. I think I stopped too soon with the image of Amelia reaching for the ball of light, and plan to put her within a background. Initially I'd seen the action of the painting taking place in a cavern, but this idea has shifted into a clearing in the forest, with trees in the background lit by the ball, and silhouette branches framing the scene. The other piece is the nymph painting here, companion of the Ophelia-like painting A Girl Swimming. In this case I think that I really need to add water lilies in the upper left corner of the piece, giving the composition some depth and placing the girls more clearly under the water.
I need to be careful not to take on too many projects, or I won't be able to complete the big pieces. My priorities have to be getting the angel pieces done.