Here are a few tips for the lazy painter who really doesn't like cleaning up and wants to save money.
Wash your brushes in hot soap and water, not turpentine, wash your hands at the same time. Great for your brushes, keeps them soft. DON'T USE TURPENTINE!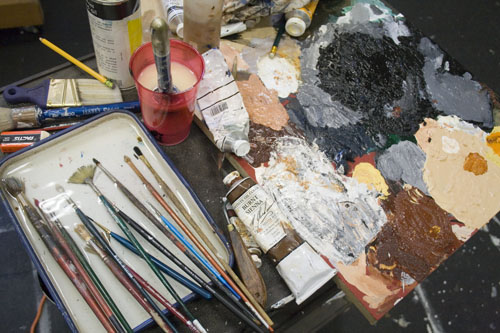 Better yet, don't bother washing your brushes at all. As long as they are under water nothing's going to happen to them anyway, so keep a flat metal tray with a half inch of water in it at all times, and let your brushes rest in it. I clean my brushes once a month these days. (In hot soap and water, not turps – so much better) I bought my enamel tray at the local 99 cent discount store for a buck.
Use Windsor and Newton's Brush Restorer. Great product! it's saved me hundreds of dollars in saved brushes that I have rescued from the students' discards at the end of semester.
Never buy pre-made canvases. Paint on bits of plywood with canvas stretched onto them.