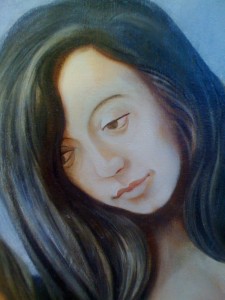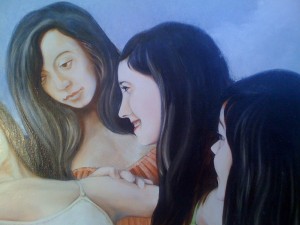 Adding shadows to the side of the face where the hair crosses her cheek has given it more dimension, pushing the eye behind the hair and making things feel more real. I used a little Van Dyke Brown to darken the shadows high on the forehead because the face felt a touch too long. Botticelli's mouth is splendid, but I'm not completely convinced by the eye, which I may change again later. For now I'll leave this alone – it's been pretty difficult and I'd prefer to move ahead.
I've added hair to the girl in green because the dark hair gives the orange girl's face some much needed contrast that defines her features more effectively.
I've begun to work out where the pillars will sit on the left of the painting. These are very important features in the painting because they define the threshold that the Empress is being brought to.