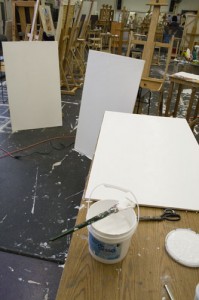 I've stretched canvas to three panels for the virtues, slapped on three coats of gesso to prime them (with the help of my son, who now thinks forest fires are terrific because he has no school today – is this how pyromaniacs are created?) and I should be ready to start painting them very soon. It feels great to be back into the studio work after this spotty period of studio time. 
There seems to be a pattern of slightly scattered down-time after the opening of any show, followed by a renewal of intensity. So perhaps this is the beginning of the new period of intense work as I start worrying about the Glendale show. I do find having an exhibit deadline immensely helpful. I'd better get busy finding some gallery shows for 2009 – 2010. Don't want to leave it too late, because curators book about a year or two ahead in their scheduling (you have to be very patient if you want a gallery exhibit).
I do have to get the Halloween Festival organized, so it might be pretty crazy for a couple of weeks – we have to get my exhibit down and install Sean Sobczak's light sculptures into the gallery on the weekend of the 25th. (Don't miss your last chance to see the Principle in it's current incarnation!) I'm grokking the Alchemy conference in fullness now, and I think it goes into my story as one of the most significant events I've been to for spiritual and personal growth. I feel re-energized and full of enthusiasm that I am on the right path. Breathing the air in the Red Rocks canyon was transformative, to say the least.
Take me to the river…