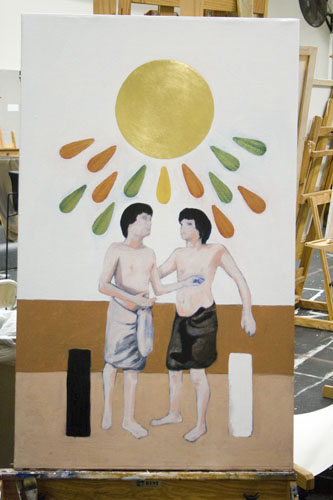 There are a huge number of photos of the dress rehearsal of Muéveme, Muévete  here, including some good images of the set and lighting work I designed for the show. 
I put in some time on the sky of the Sun painting, a first layer of white that will become blue later on, and adding some transparent colour to the golden drops falling from the golden disc of the sun. Fiddly work, but a worthwhile effect. I love the reflective quality of the gold beneath the paint, it's really not available in quite the same way using any other materials.
The basic shape of the painting is complete, so it's really about how the details get there now. There are thirteen drops coming from the sun. I chose to colour six red, six blue (which looks greenish over the gold) and one yellow. I like this number because if the sun is taken to represent the avatar Christ, the twelve drops are the disciples including Matthias, the replacement of the traitor Judas (who has the yellow drop).