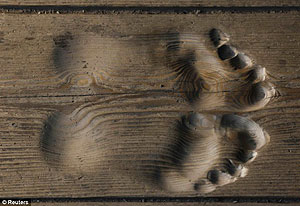 I learned a valuable lesson about discipline today – first I came upon this photo and Reuters story about a Buddhist monk who has repeated his obeisance in the same spot so often that his footprints have been deeply worn into the wooden floor of the temple. Here's a video showing him going through the motions. 
Later in the day I stopped to get gas and waited as the attendant finished his evening genuflections to Allah. I half expected him to stop to take my money, but he had other priorities in mind and completed his cycle of prayers before attending to the till.
Daily practice in the studio is a very similar discipline to both the monk's and the gas station guy's dedicated prayers. I think the practice of creative production is a prayer in itself, directly imitating the creative principle of the divine. I'm quite sure that the monk had days during those years of devotion on which he didn't feel like doing his prayers, but went ahead and did it anyway, just as the gas station attendant had his priority to his prayer in place over his need to make a living selling gasoline. In the same way I need to have the discipline to continue with the work even when I really don't want to, or don't feel like it, or think I have better things to do.
It's the regular practice of painting that makes it fluid and good, and will gradually deepen my creative footprints into the work.