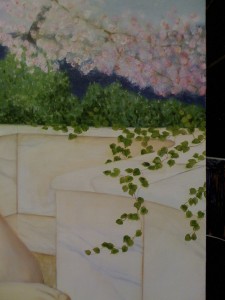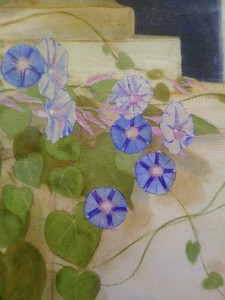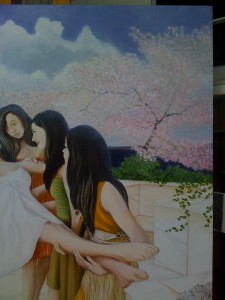 It's been a weirdly slow day, with gradual progress detailing flowers, but no major changes. The ivy took a layer of Sap Green, then some striping work with Iron Oxide to tidy the edges up, making a good first layer for this new plant. The shrubs behind the wall got highlights in a pale grey-green, while shadows were deepened here and there with Olive Green. I experimented with getting very detailed leaves but didn't like the result, because it draws focus from the figures too much, which just isn't what I'm after.
The additional morning glorys on the left side of the painting got some detail added to them, including some pink into the existing blues. I noticed that certain cultivars are a nice mixture of pink and blue, perfect for my purpose, so I've used the pink for the unwrapped buds and in the centers of the blooms.
I've added branches to the cherry tree, and popped in some Iron Oxide to warm up the right side of some of the blossoms, making the tree more substantial. The branches tend toward the Empress, continuing the theme of plants focusing upon her.