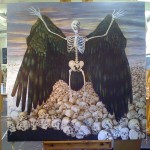 The skulls on the right side are complete (in the first layer) so tomorrow morning I'm planning to move over to the left side and see how far I can get, then I plan to watch the world cup game between England and Algeria at lunchtime.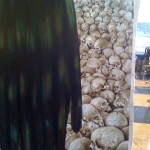 There's a certain amount of endurance required to continue painting this many skulls on the same canvas with any degree of subtlety or value. Sometimes it's about persistence and simply continuing to work regardless of other distractions.
I'm reading a really well researched book titled "The Symbolic Literature of the Renaissance" which is a delight! Robin Raybould has written an absolutely magnificent text introducing the background of allegorical symbolism that had so much influence on the paintings of the renaissance. It's fluidly written, deeply researched and extraordinarily informative. As an introduction to emblem texts and a guide to understanding where the sometimes weird symbolism of paintings in the sixteenth and seventeenth century originate it's completely invaluable. Thank you Mr Raybould!