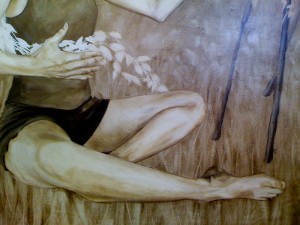 It's worrying, changing a hand in a painting, but the shaman really needed a new left hand (her left, our right) so I asked my student Ashley to model for me and shot new reference pictures for it, then re-rendered the base coat in white, then re-worked the new version, and will soon re-do the definition with the Raw Umber to give it some value. It's a big improvement on that sideways view which stacked all fingers together, making the hand look like a flipper.
I've worked on the legs with Raw Umber, creating shifts in value that make them substantial. I need to move on to the flesh tones before I can add the grasses that will come in front of the bottom half of her body because I need continuity in the gestures of the paint behind the leaves. The grass has to go over the top of the flesh or she'll appear to be floating over the grass rather than in it.
This morning was made more exciting by the arrival of a package from France. Like a kid at Christmas I opened it up with great delight because I knew that inside there was a lovely packet of Jean Noblet tarot cards restored by M. Jean-Claude Flornoy, may his printing press be ever fruitful. This isn't any old deck, it's a very well produced facsimile restoration of the oldest known Marseilles Tarot, cleaned up and printed in its original colours. Fantastic!
The Emperor in the Noblet deck shows the usual characteristics of the card, but faces in the opposite direction to the later popular Grimaud deck. The globus cruciger signifies earthly dominion, the eagle is the emblem of the Holy Roman Emperor.