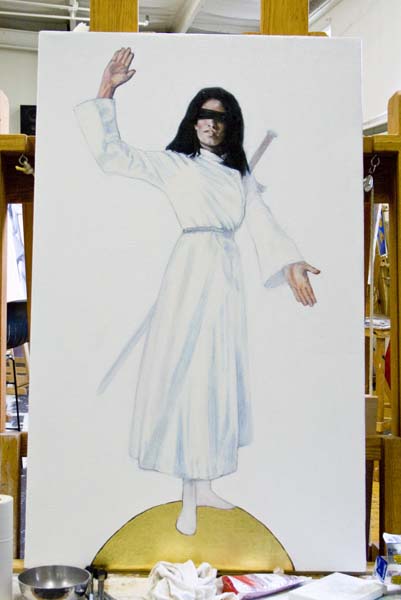 I spent a few productive hours in the studio despite guilty feelings that I really ought to get on with some administrative work that I need to catch up with, and the nagging sensation that goes with the theatre piece. Because of the distance and workload here in Thousand Oaks I have to depend on the crew in Santa Barbara to make the project, so I can't get my hands on the pieces as much I would normally like. I have complete confidence in the guys, mind, but I don't like not getting into the build myself.
Temperance got most of the work today, including her hands and bottles, some cleanup on the jacket, which really benefitted from the changes I made. I added some zinc white highlights to the trousers and to the stream of liquid, then fixed the bottles by adjusting the size of the golden one up high, and the area about the hand on the silver one. She's nearly finished!
Justice got a layer of Titanium white over everything, dropping the blues back into the paint a lot and making her appearance much softer. I also gave her a haircut! It was far too bushy before, now she looks more chic. Her sword will need a little more attention to make it more metallic, and her feet need to get some flesh on them. I really like the way the robe looks now, it's far more ethereal and drops back into that white background, making her almost ghostly.
I heard from the Brand Gallery to arrange a meeting to discuss who will put what work where in the space, so I'll be traveling to Glendale at the end of February to visit the gallery and meet the other artists in the show. I'm looking forward to this one very much.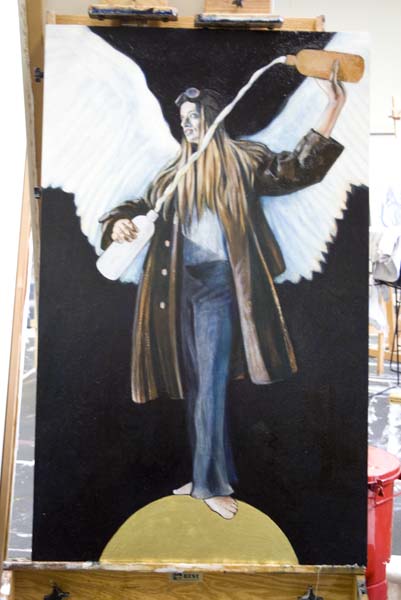 I saw a group of Indian women pass by my office this afternoon, so I nipped out and caught up with them and asked if one of them would model for me for the painting. They obviously thought I was completely barmy! I really need to find a model for that piece, some things are too clearly sent from somewhere else to miss.
I have to spend some time today working on he design of the play, making a logo for the wicked peach canning company that intends to steal the magical, but ghostly tree possessed by the heroine of the piece. By the way, if you're anywhere near Santa Barbara you've got to come and see the play when it's up (end of this month) because it's so beautifully written that you can't fail to like it… and I designed it…