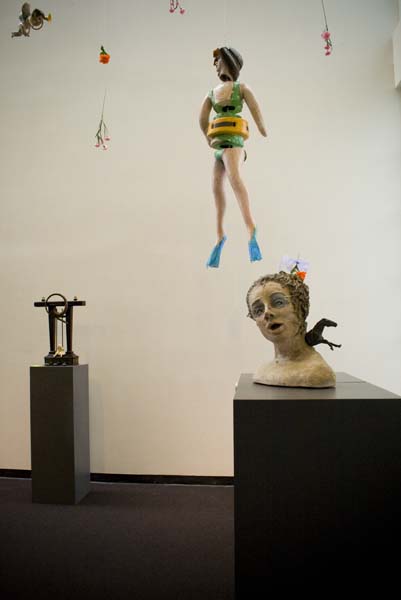 The new exhibit is in the gallery, looking good. This has kept us pretty busy at the University for the week! Last touches today, putting the labels on each piece and getting the brochures from the printer, then picking up the food for the reception this afternoon. It's a good show, with lots of variety to keep people interested.
Here's the info from the CLU website. There are tons of pictures of this and other shows on the Gallery's website too. (Including some of my work, along with that cool slideshow the web design guys here made)
The gallery's on Facebook now, by the way. Joining the fan group is a great way to keep up with what's happening.
 
Assemblage Exhibit
February 7 – March 8, 2009
 
Location:Â Kwan Fong Gallery
Event Description
Imagine a world in which art creates itself from the movements of random objects joining themselves together into new and fascinating organizations and structures – where the ordinary becomes amazing because of unexpected combinations and arrangements. The Assemblage exhibit gives us a delightful view into the mysterious world of re-invention and reconstruction under the hands of Southern California artists Bob Privitt, Leslie McQuaide, Gary Raymond and CLU art professor Larkin Higgins.
Admission is free. An opening reception will be held at 7 p.m. Saturday, Feb. 7.