Although ivy is the bane of my gardening life, for this little study for the allegory of the green man it's the perfect plant. It's impossible to destroy, totally invasive and undeniably full of indestructible life. It's energy and tenacity is timeless.
Now that the purple has been gently added into the shadows the face is taking on more of a three dimensional appearance, which will increase even more when I paint some shadows behind those leaves. Presently I've used a local ground of grey to sketch in the shapes and veins of the leaves, which will gain far more substance when a glaze of green goes over them. The orange of the Iron Oxide Red ground is shortly going to disappear under a glaze of greens and browns, resembling the background of the Star, which is almost sad, because I love that orange and grey combination. One day I'll figure out how to use it in a painting as the end result, not an early stage in the process.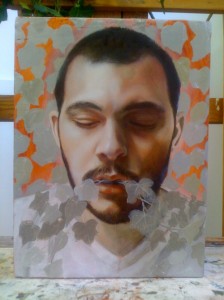 The Star painting is complete and awaiting photography. When it's been shot I'll post an image here. If you want to see the actual thing come to the CLU gallery in late August, when it will be on exhibit. I'll post more about that event shortly too. There will be some fabulous paintings by some amazing artists who are reshaping figurative painting in the US.