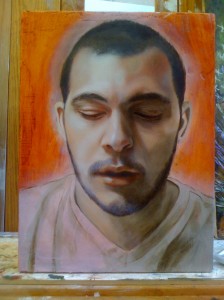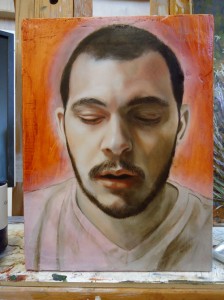 I've continued with the flesh in the same way that I was working yesterday, building glazes and finding subtle transitions of colour and value. I've re-established the hair using Van Dyke Brown, a warm brown pigment made from a black mixed with a Burnt Sienna – the difference in colour creates a slight vibration between the cooler Raw Umber that I used earlier. I used a 00 striping brush to create general hair areas, then dragged my finger nail across the paint to lift lines of it off, revealing the lighter surface beneath it, then softening the surface with a mini fan brush. The lips are Red Ochre, which is also around the eyes.
I'm letting this dry for a day before working on it any more because I'm damaging the earlier glazes. I want to continue working on the chin and right side jaw, then I'll get into rendering the ivy that's going to come out of his mouth. In order to stick to Rosetti's Pre-Raphaelite method I'll introduce a touch of purple into the shadows.
I enjoy seeing these progress photos. It's handy to see how the painting is constructed.