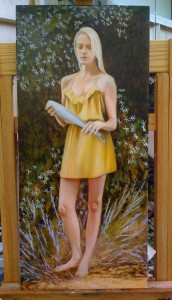 Although it's been great to see some amazing art over in Europe, coming back to the studio after such a long break was a relief, and I've had a productive day working on the background of the Star painting.
While the jasmine flowers have been emphasized with a simple addition of a layer of white the lower half of the painting has developed substantially, with the addition of lavender stems and some grass in pale shades. The grass still needs to be glazed with a green, while the lavender stems need a layer of deep purple to create texture in the points.
Using Raw Umber to create darker shadows around the girl made her come forward in the painting and created more variety in the structure of the leaves, while adding some depth to the shadows under her arm and hand make them emerge from her body. I've added some shadows into the lowest foreground for a rocky texture around her feet.