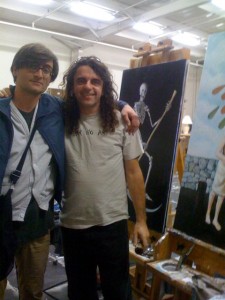 A couple of days ago Francesco came to the studio to visit prior to his return to New York. I really enjoyed spending time with him, with his easy calm temper and excellent cooking and I hope to see him again soon. I'm closely guarding two of his paintings for an exhibit at the local Hillcrest Center, which I'll also be participating in with the As the Crow Flies installation.
Meanwhile, in the Kwan Fong gallery the Multimedia show has been taken down and we are preparing for the exhibit of our Senior Art majors work, the culmination of their Bachelors degrees at the University. The opening is on Friday evening at 7.00pm.
I've been looking at rose bushes and figuring out how they would hang over the wall in the Sun painting. This afternoon I hope to get started on laying down the background for them. 
A friend pointed me in the direction of an interesting story on the work of Mr. Robert C. Christian and the guidestones in this article. The stones have been vandalized this week, which is a pity, reminding me of the Taliban's fundamentalist efforts to eradicate all trace of any religion other than theirs from Afghanistan. No tolerance!