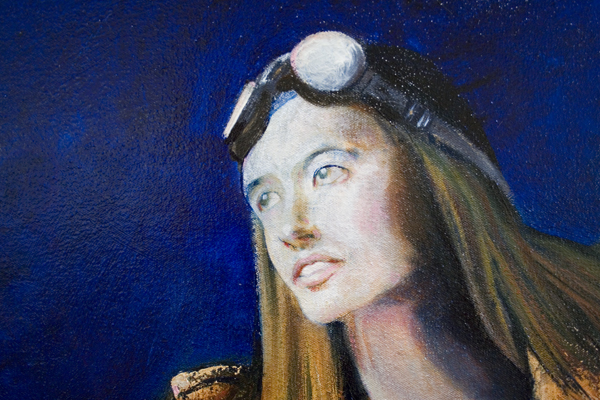 I worked on defining the features of the face first, using the Prussian blue to draw edges and shadows around the eyes, nose and mouth. Having defined the features I added some pinks and reds around the mouth in particular, but also a few touches around the nostrils and the corners of the eyes, to give them some life. I used some zinc white with a touch of pink to add some highlights into the skin, and cleaned up the eyes and teeth. To unify the painting I put a few touches of the same colours onto highlight areas of the coat, for instance the left shoulder, which in truth are so subtle as to be almost invisible, but I think they're really important, because they imitate the natural phenomenon of reflected light, which will put discrete touches of colour onto surfaces that are close to each other.
These fires are too frequent and too intense. In alchemy the nigredo is the process of destroying the impurities of the material by burning it, reducing it to its essential element before re-combining it with another element. I'm finding a microcosmic parallel between the fires and the city and the process of this divorce: I truly feel as if I am being cleansed of non-essential material and finding the inner core of my self, the elemental centre. I'm discovering that material doesn't matter, and the things that I really want to keep are few: my books, clothes and my tools for making things. Spiritually I have found that reducing the material needs of life has been liberating, and reminds me of coming to the United States eighteen years ago, with only a backpack and a thousand dollars. It was scary but liberating then, too.
Obviously my children come before any of this stuff, which fades to grey in comparison to the light in which I hold them.
The air smells of smoke. A breath of wind moves leaves.
In the studio: total peace. Amelia is waiting for her feet to be attended to, and there's a field of flowers waiting to bloom. Terry said she plans to come over to work on her canvases today, so I'm looking forward to her company. She's an excellent painter.