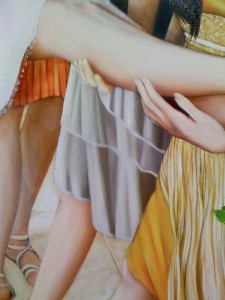 The green skirt was irritating enough to deserve repainting, so it's been replaced by a new version rendered en grisaille, bringing softness and gentleness where once there was a tweedy, rough surface. I'm considerably happier with this more balanced approach, with a design which is similar to but not a duplicate of the pink dress on the left, bringing the green girl more into harmony with the rest of the Empress' attendants.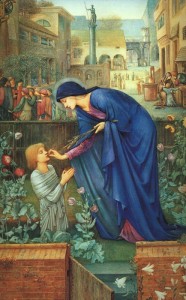 I've been very taken with this Pre-Raphaelite painting by Burne-Jones titled "The Prioress' Tale", illustrating a story in Chaucer's Canterbury Tales. I love the composition of the painting and his use of rich colours here, although it seems that the story it illustrates is not going to be one of my favorites of Chaucer's canon, being one of the nasty medieval "blood libel" tales that got Sarah Palin in trouble last week.
In the beautiful Kelmscott Chaucer that Burne-Jones illustrated for William Morris there's a similar illustration of the tale by the artist in the form of a woodcut, this time showing Mary as an angelic floating figure. In both the painting and the woodcut Mary is seen placing a grain of wheat into the child's mouth, which miraculously enabled him to continue singing her praise even after his death. In the painting the boy is standing in his grave, having had his throat cut.
This afternoon Mike Adams came by to talk with me about Scultura Marmo, our exhibit of the work of sculptor Bela Bacsi, whose marble masterpieces will be in the Kwan Fong Gallery at CLU from February 12th. No sooner had Mike left than Bela himself appeared to discuss lighting for the show. I'm very excited about the show, which is going to expose some of the secrets of marble carving Bela learned directly from Italian masters in Florence.