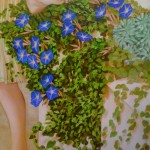 The quest for foliage continues, and I've been adding dark shadows into the foliage on the right side of the painting, building substance and getting further away from the very decorative leaves that were there before. In the photo you can see where the new edge of the painting is (regular visitors will remember I snapped a bright orange chalk line so that I could see what the new boundary was) because the thinly painted and linear work on the right contrast sharply with the dark leaves I've added in the last week.
We've also been busy getting the studio ready (read "cleaned up") for Donna Granata to come over tomorrow to shoot photos for her impressive portfolio of portraits of artists. She runs an organization called Focus on the Masters which documents the lives and work of artists who live in Ventura County. Once the portrait is made it will be part of her traveling exhibit of photographs and also accompany an television interview that will make part of a file about my work that will be available to historians and researchers in the future. I'll post a link when they've put my file on the web.
This weekend a beautiful exhibit opens at the Weisman Museum in Malibu. Strongly recommended!
The Epic and the Exotic: 19th-century Academic Realism from the Dahesh Museum of Art, which will be at the Frederick R. Weisman Museum of Art at Pepperdine University from January 14 through April 1, 2012.  Opening reception is Saturday, Jan 14, 5-7 pm.
Frederick R. Weisman Museum of Art
Pepperdine University
24255 Pacific Coast Highway
Malibu, CA 90263