Here's my friend and colleague Dr. John Tanacci checking on the still to make sure everything is bubbling away nicely. He came out to the gallery to set up the apparatus and has been a great teacher as I have been bumbling about in the laboratory recreating alchemical experiments that were practiced hundreds of years ago. John rocks! In the flask you can see the oak leaves boiling and the steam rising into the tower above the flask.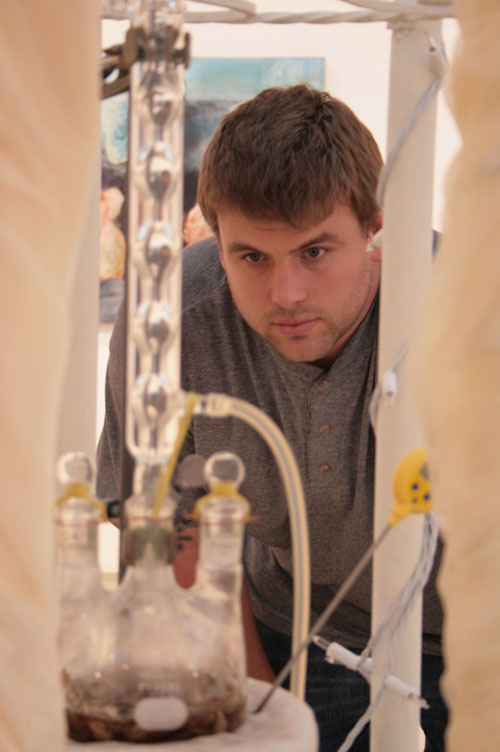 I took life very slowly and easily today. I walked fifteen miles or so up and down a mountain on Saturday night and Sunday morning, so this morning I ached all over. It was completely worth it – after the opening reception I hiked in the moonlight down an abandoned road in the middle of the Angeles Crest National Forest to the Northeast of L.A. occasionally using a headlight to pick out my way past landslides and fallen trees; to my right, towering cliffs, to my left sheer precipices.
I slept in a flat gravel area in my super-warm and comfortable mummy bag, waking at dawn and disturbing a bighorn sheep on the path as I paced back up the mountain to return to my car – I have never seen an animal move upwards so fast! With every leap it took this beautiful creature let loose an avalanche of rocks, stopping occasionally as he leapt up the cliff to stare down on me, gravity-bound to the road.
The wilderness is the antidote to the city. When looking for peace, go to the mountains or deserts and sleep alone facing the stars.