The Emperor painting has taken a giant leap forward, with an entirely new foreground landscape beginning to develop around the Empress. I've enjoyed painting the underlying dark areas that will lie beneath a range of grass that will be the next feature to emerge. In addition, I've added some white over the edges of the foliage that climbs the chair, letting the dark leaves drop back into the sky a little by softening the edge between the blue and green. I used Foundation White because that's what I used for the milky glaze over the blue.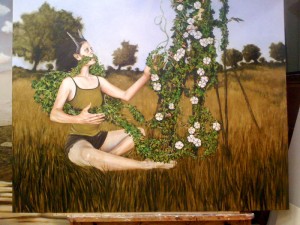 I didn't get any more painting done today, but I did get to snap a picture of this beautifully misty sky beside my home that I might want to use for reference in the Emperor painting. I love the soft transitions from mountain to mountain as the California ranges sit further and further away. This is atmospheric perspective in action! Lovely.
The Carnegie Museum is a lovely neo-classical building with a grand facade beside a grassy town square in Oxnard, California. It's a perfect setting for an exhibit of my canvases, which will mingle beautifully with its lovely white pillared interior, carefully balanced with grey walls that won't overwhelm the colours of the paintings. It's a delightful space – I loved being in a gallery that doesn't have excessively bright white walls! I met with curator Suzanne Belah today to look around the rooms again and to contemplate how the paintings will work, and to consider which new works should be my priorities in the progress of the new year. I enjoyed sitting in the building in silence, getting a feel for the quiet energies of the various spaces, which I think will allow for the paintings to be hung in a series of almost shrine-like settings.
Good times!