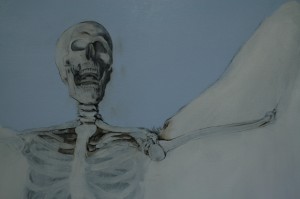 I've been developing the shadows of the skull and shoulders, defining the shapes of the bones and fixing the more glaring errors. It's a little slow, but I feel the need to get detail down and make this a rather careful painting, probably for the same reason that I had for getting the reaper right for the tarot card version – my medical family wouldn't let me get away with it if it doesn't meet their anatomical standard! The photo looks a little dark here but you can see how the definition is coming to the figure. I'm interested in how the wings will work with the shadowed bones of the skeleton, and I will need to add the sky between the ribs, with a transition to the white feathers somewhere half way down his back.
There's a pretty big photo behind the thumbnail you see here.
It feels good to get some time in the studio again, it's been too long – it's not that I've wasted time, because the week since returning from camping has been important for my kids to start feeling at home in the new house. I enjoyed getting up onto the platform and surveying the painting after a while away from it, then making effective changes to it.