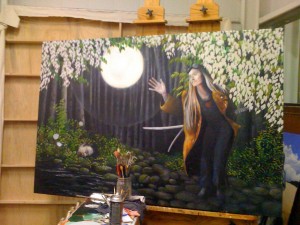 I've returned to the studio after taking a few days break for rest and recuperation, returning to the unfinished work on Amelia Beheads the Alchemical King. A new layer of leaves is filling out the layer of birch leaves at the top of the painting, but painted so that they come towards us rather than the side view that the previous branches were at. As usual I'm painting the leaves in a light grey first, which will be glazed with a yellow and green, with touches of Iron Oxide Red around the edges.
It's quite refreshing to have a smaller painting on the easel, and feels rather strange to return to this piece, which I haven't touched for a pretty long time. I'm rethinking the composition of the bottom right corner of the piece, which was never really thoroughly painted, perhaps adding some large leaved plants that like watery environments, and I'm not satisfied with the work I did on Amelia's  body, with the exception of her jacket and head. I think I'll add more flower buds to the roses, and some more leaves to fill them out with another layer of detail. They feel a little flat right now.
Ally has bought the fabric for the dress for the Priestess, and I'm continuing to figure  out what the rest of the painting is going to look like. The musicians are all the same model, holding different musical instruments, whispering as they face the uncertainty of their audience sleeping: should they play more, or retire? I hope to shoot pictures of the musicians this weekend, once I've done a little more sketching to figure out how they're standing.