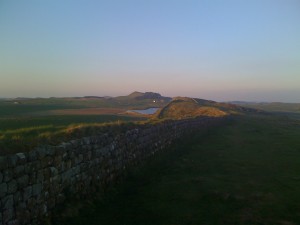 Spent the last couple of days hiking in the Borders of England and Scotland, first in Lancashire where the Emperor Hadrian built his two thousand year old wall, walking past the quarries from whence the legions cut its stones and the forts that were used to guard the Northern frontier of the Roman empire against the Scots and Picts.
Next to Dumfries for a wholly different kind of structure: Andy Goldsworthy's "Striding Arches"; a series of free-standing arches that have been constructed here at Cairnhead near the village of Moniavie; in New Zealand and America.
The first photo shows Hadrian's Wall at sunset – 'nough said. The two below are of two of Goldsworthy's arches, one at Cairnhead, another at the peak of Colt Hill.